Osteopathy Treatment for Adults
Osteopathy can treat a range of musculoskeletal problems offering effective pain relief for issues such as back pain, joint pain, headaches & muscular strains.
Osteopathy from Carl Todd Clinics
Whether you're seeking relief from musculoskeletal pain, looking to improve mobility, or interested in a holistic approach to your overall health, our team of skilled osteopaths is here to guide you on your journey to a pain-free and active lifestyle.
Discover how osteopathy can improve your well-being and make a positive difference in your life.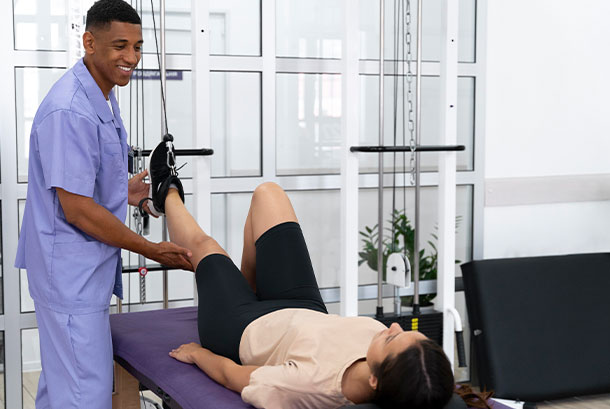 How can Osteopathy help you?
Osteopathy is a system of diagnosis and treatment applied to a wide range of medical conditions. It works with the structure and function of the body and is based on the principle that the well-being of a person is governed by the combined smooth functioning of the skeleton, muscles, ligaments and connective tissues. Our skilled osteopaths utilise techniques and a deep understanding of the body's structure to promote healing and well-being. 
Here are some ways in which osteopathy can help:
Why you might need Osteopathy
There are numerous reasons as to why you might need to see an Osteopath as an adult. Some of these issues may have stemmed from childhood, playing sport or even at work. A few examples of these are:
Arthritis
Pinched nerves
Poor posture
Stress and anxiety
Sleeping on your stomach
Pregnancy

If you're still not sure whether osteopathy is right for you, consider whether any of these conditions apply to you:
Musculoskeletal Pain: If you're suffering from acute or chronic pain in your back, neck, joints, or muscles, osteopathy offers a natural and effective approach to pain relief without relying solely on medication.
Sports Injuries: Osteopathy can be highly beneficial for athletes or individuals involved in physical activities. Our practitioners specialise in sports-related injuries, helping you recover faster, improve performance, and prevent future injuries.
Work-Related Discomfort: Many adults experience pain or discomfort resulting from their occupation, such as repetitive strain injuries, postural issues, or ergonomic challenges. Osteopathy can address these work-related concerns and provide you with strategies to manage and prevent them.
Age-Related Conditions: As we age, our bodies undergo changes that can lead to conditions such as arthritis, osteoporosis, and decreased mobility. Osteopathy can help manage these age-related conditions, improve mobility, and enhance your quality of life.
Diagnosis, treatment​ and aftercare
Our osteopaths specialise in diagnosis, treatment and prevention. We will diagnose the problem and provide a clear explanation of what we have found and why you are feeling pain. When you choose Carl Todd Clinics, you can expect a comprehensive and individual approach to care.
Here's what you can anticipate through your journey:
1. Assessment
During your initial consultation, our osteopath will conduct a thorough assessment, discussing your symptoms, medical history, and any relevant lifestyle factors. This evaluation will help us understand your unique needs and develop a personalised treatment plan. Whilst communicating with you on where the pain is, we will start the treatment and help to ease the pain.
2. Treatment:
Our skilled osteopaths employ a range of manual techniques, and other treatment modalities such as, ultrasound, electrotherapy and medical and electroacupuncture. These techniques aim to relieve pain, restore mobility, and enhance overall function. Each treatment session will be tailored to address your specific concerns.
3: Aftercare:
We believe that aftercare plays a vital role in your recovery and long-term well-being. We usually recommend a rehabilitation programme, with some easy exercises to do at home and other exercises you can do to reduce the risk of problems in the future. We encourage open communication and are here to address any questions or concerns you may have during your recovery.
Osteopathy can be used to treat
Unsure if Osteopathy is right for you? Get in touch using the form or call one of our clinics to speak with us